As the new year got started we witnessed major developments in two key energy projects in SE Europe. First of all on January 8 we had the official inauguration of Turkish Stream in Istanbul where president Vladimir Putin of Russia and president Tayyep Erdogan of Turkey joined hands in a ceremony marking the start of operation of Turkish Stream. This is a major gas pipeline which is planned to deliver some 32.5 bcm of Russian gas to SE Europe, with half of it going towards meeting Turkey's growing energy needs and the rest to delivered via Turkey to Greece,Bulgaria and North Macedonia and later in 2021 to supply Serbia,Hungary and eventually destined to reach Austria.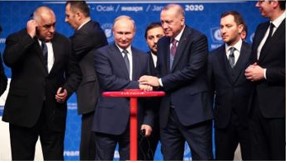 In essence this first string of Turkish Stream replaces gas quantities which until the end of 2019 were being delivered to the region through the Trans Balkan Pipeline which run through Ukraine and delivered gas to Romania,Bulgaria,Greece and Turkey. With Turkish Stream forming the southern axis of Gazprom's strategic master plan of bypassing Ukraine,in order to ensure safe and uninterrupted gas deliveries to its European clients, while Nord Stream 1&2 form the northern axis.
First gas volumes from Turkish Stream are already being delivered to Turkey rising to some 15,0 bcm by the end of the year, with more quantities becoming available by the end of this decade when the second leg of this major pipeline will be constructed. With the operation of Turkish Stream on schedule Turkey is reinforcing its role as the region's major energy hub and a vital link for European gas supply.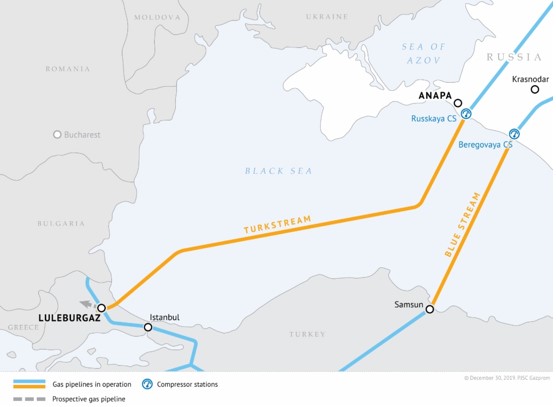 An equally important project in regional terms is the planned East Med pipeline which early this year, on January 2, reached a critical point in its development history when the first major intergovernmental agreement for its realization was signed in Athens by the energy ministers of Greece,Cyprus and Israel and with the Italian government's backing. On the same day the first commercial agreement was also signed for an initial gas quantity of 2,0 bcm per year to be purchased by DEPA over a 15 year period from Energean which is developing the Karish and Tanin fields offshore in Israel. The East Med pipeline is considered by the European Union as a major new gas artery which will help to diversify o European gas supply and hence it has been included in the Projects of Common Interest (PCI) thus ensuring the necessary funding for its study, including the FEED phase.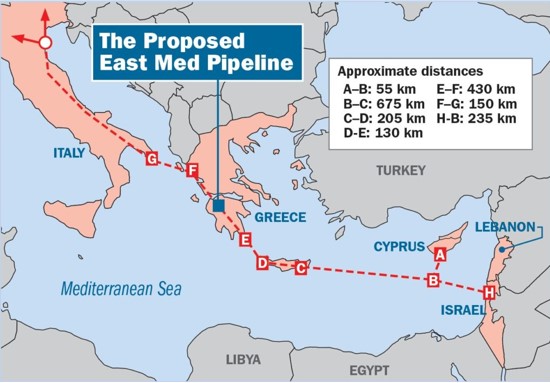 With an initial gas transmission capacity of 10,0 bcm the East Med is not expected to solve Europe's high gas dependency situation but will no doubt contribute in bringing fresh gas quantities from a new gas producing region which is the East Mediterranean,starting with Israeli and Cypriot gas fields.The 1900 km pipeline is technically a very demanding project estimated to cost some € 7,0 billion since almost 70% of its length will run underwater with some parts to be laid some 3000 m belowsea level.There is no doubt that the agreements signed on January 2 in Athens form a turning point in the project's development phase. Efforts will now focus in attracting the necessary investor interest which is necessary in order to reach an FID before the end of 2021.
IENE has followed closely and commented on the development of both the East Med and Turkish Stream pipeline projects which are regarded as crucial for the region's energy security. A detailed description and analysis for both pipeline projects was provided in the Institute's major study, the "SE Europe Energy Outlook 2017" . As a matter of fact IENE contributed one of the first crucial strategy studies for the East Med pipeline project back in 2012,having carried out an assignment on behalf of Greece's Public Gas Corporation (DEPA)