According to IENE's latest SEE Electricity Market Analysis ( issue no 80 released on May 12) Public Power Corporation, Greece's incumbent electricity company, has failed for the first time ever to provide the local pool system with any lignite produced electricity for an entire week. As the IENE Bulletin points out " most notably, PPC's lignite fired generating units, having operated with a particularly high and non-competitive production cost, were thrown out of the dispatching schedule during Week 19.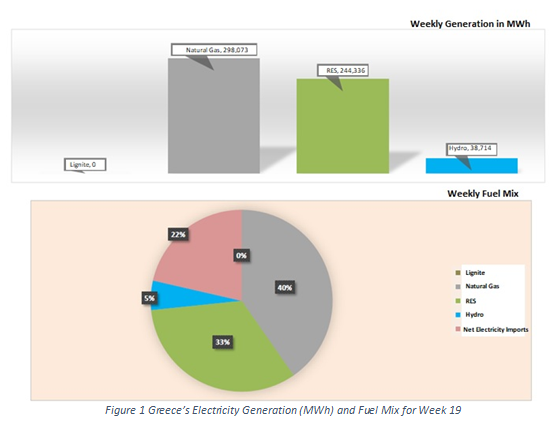 Consequently, gas fired units ramped up their weekly output to compensate for the deficit, generating 298.07 GWh ( + 15,58% or + 40.17 GWh w-o-w) At the same time weekly RES output increased significantly to 244.34 GWh ( + 9.46% or + 21.13 GWh w-o-w), limiting the upward pressure to the system's marginal price." However, in spite of a balanced energy mix and sizable contribution from local RES and hydro Greece's average wholesale electricity prices remained some of the most expensive in Europe all of last week when the average price reached €29,27 per MWh with only Poland recording an even higher price at € 38,27 per MWh.
During the whole of last week Greece's electricity imports remained significantly high, accounting for 22% of the country's weekly electricity demand, despite the incremental upward trend of regional wholesale electricity prices. With zero input from lignite fired units the country's electricity balance was dominated by gas which covered 40% of electricity demand, followed by Renewables which contributed 22% of the demand and hydro which filled in the remaining 5%. Last week's electricity demand shot up to 736,158 MWh, i.e. plus 27 MWh compared to the previous week, as the country was slowly exiting from lockdown.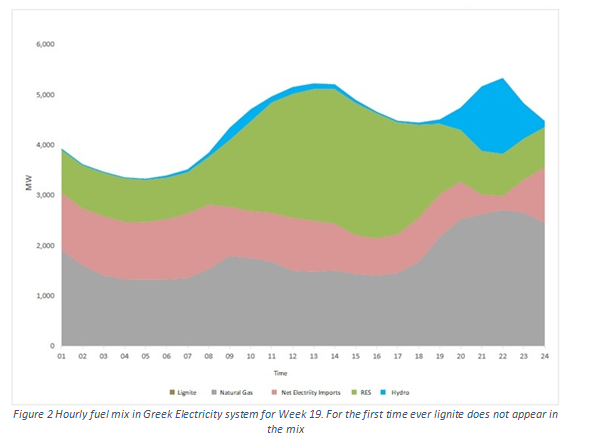 High emission prices in addition to PPC's substantialoperational and maintenance costs, for both power units and lignite mines, have made coal generated electricity in Greece an expensive proposition. With PPC currently operating 14 lignite fired stations, along with several mines, with total installed capacity of some 4.0 GW, the financial blow stemming from their expensive operational maintenance, and almost zero contribution to local electricity production is really huge and constitute a continues drain on the corporation's resources. Consequently PPC is speeding up its decommissioning programme aiming to have fully removed or mothballed its entire lignite power station fleet by 2023 save one major station, the Ptolemaida V, currently under construction and slated to come on stream next year, which if necessary could be converted to operate with biomass.