Last Wednesday, May 24 the Chairman of the Institute, Mr.Costis Stambolis, accompanied by the Secretary General, Mr.Costas Theofylactos traveled to Istanbul, Turkey where they visited the Energy Exchange Istanbul (EPIAS) and in a specially organised event they presented IENE's recently released flagship publication, the "SEE Energy Outlook 2021/2022"
In his opening remarks Mr. Ahmet Turkoglou, the CEO of EPIAS, welcomed the IENE team and referred to the importance of the 'Outlook' report as a major contribution to the region's increasingly demanding energy situation in terms of supply and trading. In this context, the CEO of EPIAS recognised the important contribution of a study such as IENE's 'Outlook' which was also sponsored by EPIAS, a long with other major companies and organisations from the entire region.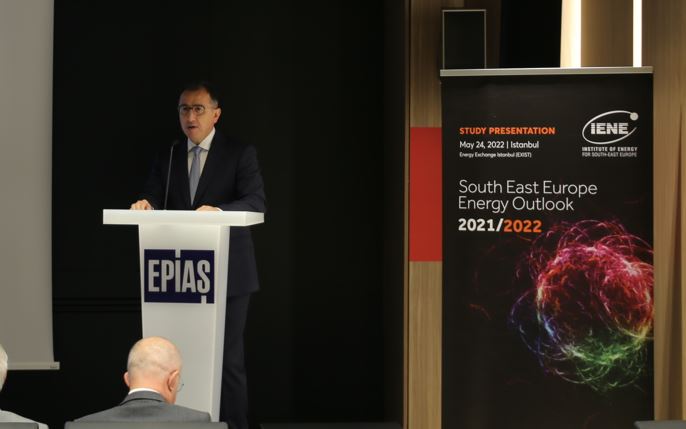 Mr.Gokhan Yardim, an independent energy advisor and IENE's partner in Turkey, then proceeded with a short introduction on the prevailing energy issues confronting the SEE region and Turkey in particular, and how the gas supply situation has radically changed at European level following the war in Ukraine. He also discussed the role of the EU and the difficulties he saw in the plan to decouple from Russian gas imports. 
The main presentation of the 'Outlook' report was made by Costis Stambolis where he stressed the importance of regional cooperation as a means of overcoming technical, financial and political problems but also of tapping adequate funding and investment opportunities. Following that Costas Theofylactos, who also chairs the Institute's Energy Efficiency Committee, took the floor and expanded on issues related to Renewable Energy Sources and Energy Efficiency. 
Dr. Yurdakul Yigiguden, an independent energy consultant and a well known authority on Turkish energy issues and contributor to the 'SEE Energy Outlook" report and a Senior Associate of the Institute, concluded the event with a comprehensive presentation of the energy situation in Turkey, the key pending issues and the great investment challenges which lie ahead in terms of major infrastructure and energy efficiency improvement especially for the residential and commercial sectors. 
An open discussion followed while Ahmet Turkoglou concluded the event by contributing closing remarks. Mr. Costis Stambolis from his part thanked EPIAS and its CEO for hosting the event and for their really warm reception. 
The presentations from the EPIAS event are currently being up loaded on the IENE web site and will be shortly available under the publications section.