On Monday, April 11, the Institute uploaded on its site (IENE.gr) a major report prepared by its research staff in close cooperation with the Hydrocarbons (upstream) Committee of IENE which is chaired by Ms. Teresa Fokianou. This 63 page report entitled "Economic and Geopolitical Benefits from the Utilisation of Hydrocarbons in Greece" provides a comprehensive review of activities so far in the country's upstream sector while it summarises the major findings to date and formulates a number of useful conclusions.
The report, which received wide media cov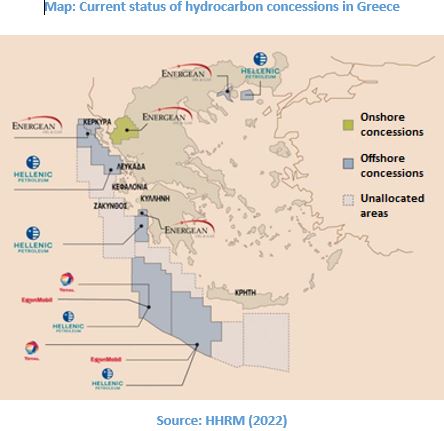 erage upon its release, also offers advice on how the government should proceed from now on in developing long stagnant research activities in the various concession areas which have been granted to major international companies since 2014. As the report points out over the last few years exploration work in several areas has been bogged down by legal action taken by various environmental activist groups which are dead against hydrocarbon development as they claim it does not conform to the current climate goals for emission reduction but also present serious wildlife threats. At the same time the present government has adopted an ambivalent position with regard to exploration forcing some concessionaire companies to re evaluate their position in the Greek market and leading them to their decision to leave the country.
IENE's report comes out strongly in favour of continuing but also of accelerating seismic research in existing blocks while opening up more areas, especially offshore,for further exploration. The report, which has been in the making over the last 5 months or so, comes in response to the growing pan European energy crisis and the need to develop indigenous, European based, energy resources in order to strengthen energy security and lessen reliance from imports. "As a result of the war in Ukraine and potential disruption of oil and gas supply from Russia,the need to develop further local energy sources, both renewables and fossil fuels, has become even more apparent", the report notes.
According to the IENE report the es
timated commercially exploitable potential gas resources in Greece amount to 2.0 -2.5 trillion cubic metres with most of the 30 finds discovered so far located in deep sea geological formations offshore in the Ionian, in western Greece,but also in the south and south west sea area offshore Crete. It is estimated that the total value of these reserves amount to € 250 billion, a figure which is likely to be revised upwards on account of current high oil and gas prices. Today, there are seven major active concession blocks (see map) with four companies active in the region (Energean, Hellenic Petroleum, ExxonMobil, Total) The first one is the Prinos area offshore Thassos island in the North Aegean Sea, Greece's only oil and gas producing field, while the rest are to be found onshore and offshore in the west part of the country.
The report concludes with a number of clear cut recommendations addressed to the government urging it to fully clarify its position vis a vis the continuation of exploration work w
hile it also suggests for it to cooperate closely with the existing concessionaires and ask them to speed up the various research tasks undertaken as part of their licensing agreements. Also included is a timetable for further exploration work from now until 2023 leading to exploratory drilling in 2024/2025 and likely production in 2027. According to the IENE report if the current estimates for potential hydrocarbon reserves are confirmed then Greece in addition to covering fully its own gas needs it will be able to cover 15-20% of European gas needs.
An English language version of the report will soon become available while on April 19 IENE will hold an online press conference to present the report and field questions from journalists.