Energean plc (LSE: ENOG, TASE: אנאג) is pleased to provide an update on recent operations and the Group's trading performance in the 3-months to 31 March 2023
Highlights – Financial and Corporate
Revenues for the period were $288.8 million, a 69% increase versus Q1 2022 ($170.7 million)
EBITDAX for the period was $161.2 million, a 81% increase versus Q1 2022 ($89.6 million)
Group cash as of 31 March 2023 was $379.6 million (including restricted amounts of $11.5 million) and total liquidity was $943.5 million
Q1 2023 dividend of 30 US$ cents/share declared today, scheduled to be paid on 30 June 2023
Emissions intensity[1] for the period was 11.1 kgCO2e/boe, a 36% reduction versus Q1 2022 (17.2 kgCO2e/boe)

Emissions intensity1 in the four-months to 30 April 2023 was 10.1 kgCO2e/boe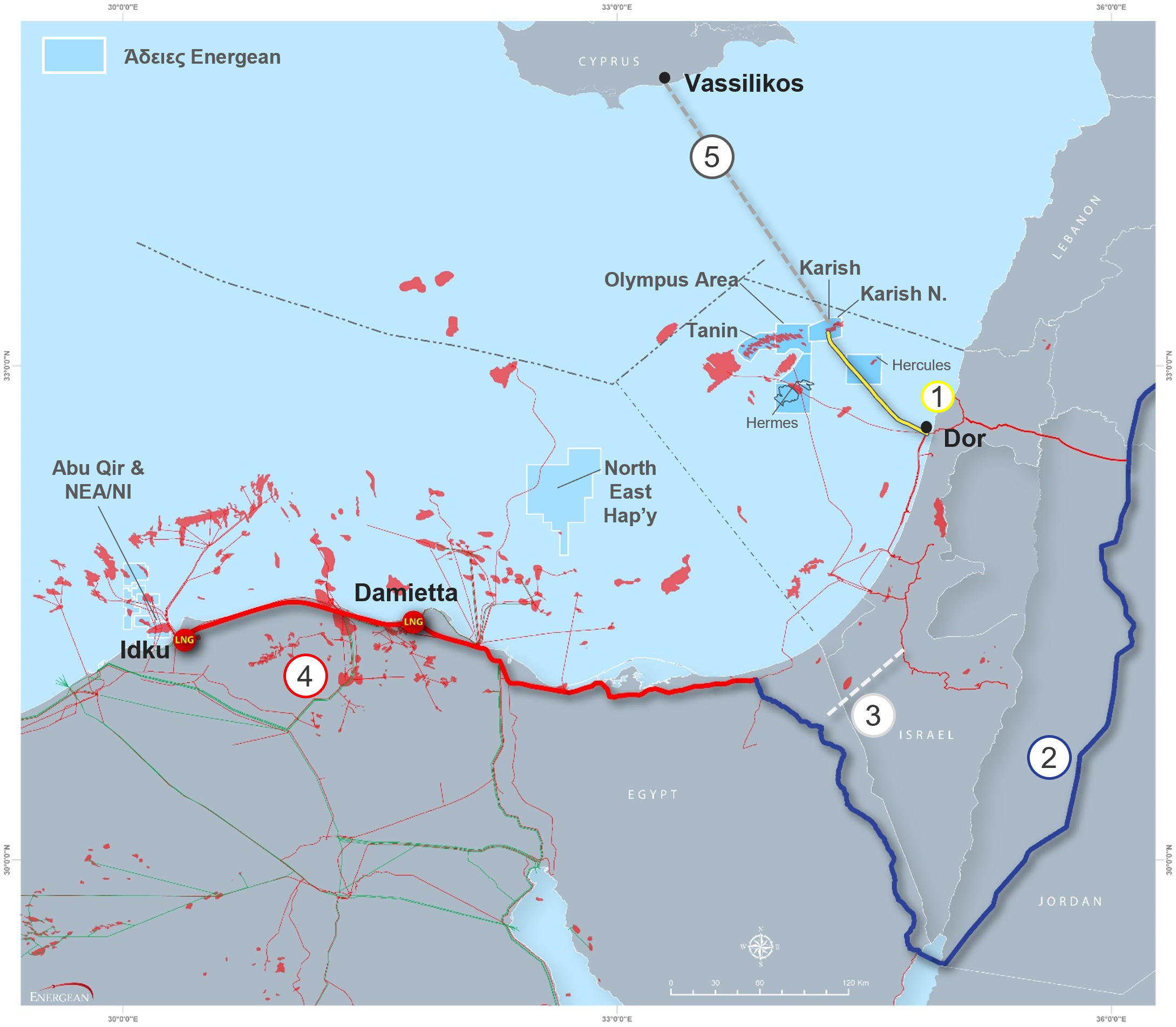 Highlights – Operational
Production for the period was 94.4 kboed, a 161% increase versus Q1 2022 (36.1 kboed)

Production in the four-months to 30 April 2023 was 100.0 kboed (82% gas)

Commercial period under the gas sales agreements in Israel commenced for gas buyers on or before 1 April 2023[2], with production continuing to ramp up
Three hydrocarbon liquid cargoes cumulating in approximately 1 million bbls from Karish sold to Vitol year to date
The second gas export riser was successfully installed at Karish in March 2023; followed by key Karish North infrastructure in March and April 2023
Olympus development concept chosen to align with strategy to optimise free cash flows and shareholder value

Tie-back to Energean Power FPSO, with Olympus prioritised over Tanin
Production plateau maintained by monetising newly discovered resources that do not incur seller royalties nor carry export restrictions
Focus maintained on capital discipline: Lower cost development versus Tanin driving lower capital expenditure for the next phase of tie-backs to the Energean Power FPSO; plus avoiding significant capital expenditure to add capacity through FPSO expansion projects or a new FPSO/FPU
Production expected to underpin existing gas sales agreements plus target international markets that can be accessed through existing and planned third party infrastructure
Outlook
Full year production guidance revised to 125 – 140 kboed (from 131 – 158 kboed) due primarily to:
Revised gas sales forecast in Israel with full year quantities now expected to be 4.5 – 5.0 bcm (versus 4.5 – 5.5 bcm) due to the ramp up profile of buyer offtake and ongoing optimisation of the operations of the Energean Power FPSO
Higher-than-expected decline from NEA#6 in Egypt following the positive initial flow rates. There is no expected read-across to the PY#1 and NI#1 wells; extended flow testing is required at NEA#5 to confirm no read-across for this well. These three remaining NEA/NI wells are expected onstream over the course of 2023; NEA#5 drilling was completed in May 2023 with results in line with pre-drill geological expectations.

Karish growth projects on track for completion by end-2023
On track to deliver near-term targets of 200 kboed, $2.5 billion revenues, $1.75 billion EBITDAX and leverage < 1.5x in 2H 2024, and pay dividends in line with previously communicated policy
Final investment decision on the Olympus Area expected in late 2023
Orion 1X spud expected towards the end of the year
Mathios Rigas, Chief Executive Officer of Energean, commented:
"We are ramping up production from the Karish field and have seen four months of solid gas and liquids production in Israel, whilst optimising the operations of the Energean Power FPSO. Our Israeli gas contracts have moved to commercial status and our buyers are increasing nominations. This year, Energean expects to supply a significant proportion of Israel's gas demand.
"This is why we are moving quickly to develop our newly discovered Olympus Area resource, as efficiently as possible. As there is limited incremental capex, the initial development concept is in line with our stated commitment to remain capital disciplined. With no seller royalty payments or export restrictions, this strategy will create sustainable value for all our stakeholders and allow us to maintain and grow our stated sector-leading dividend policy.
"We continue to focus on our Net Zero stated path through continuous reductions in our carbon intensity. We are and will remain a responsible hydrocarbon producer. We are committed to being the best version of Energean we can be: provide a secure and reliable energy supply, support our communities and underwrite the transition."
[1] Scope 1 and 2 emissions
[2] With the exception of one GSPA, whose commercial period begins in November